"This sure is a nice hand basket.  Where did you say you were taking me?"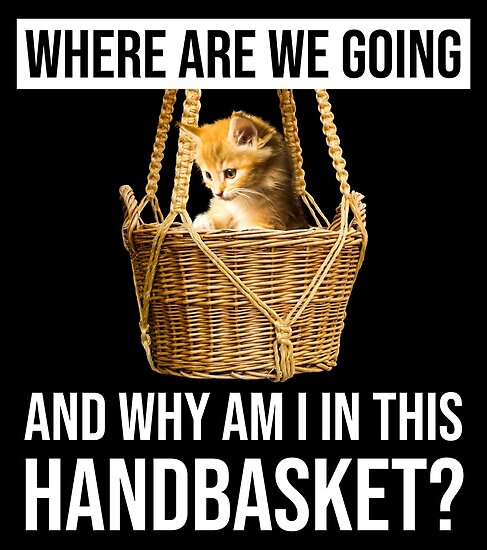 Or it least it feels that way lately.
Where do we, as Christians, go from here?
We live in a nation experiencing a pandemic the likes of which we have not seen in a hundred years.  Except our population in three times as large nationally, we are more interconnected,  our medical system is at the very least broken for many, and they did not have social media.  Yet, we are making the same mistakes and having the same problems.
Said pandemic has exacerbated tensions on all levels and heightened divides. It has radically altered how we do everything and will continue to do so.
We live in a nation that is demonstrably more politically divided than it has been in over a hundred years, and we saw how that turned out.
We live in a nation that is under threat from foreign powers who are engaging in wars not with weapons but with cash and information manipulation.
We live in a nation with a host of problems,like failing and inadequate infrastructure,  that we cannot address because we cannot get past the hot button issues.
We live in a nation where discussing solutions is impossible when we cannot even agree on the nature or even existence of the problem.
We do not even agree on the definition of the words we are using to debate, and therefore talk past each other.
Mr Yates?
"Things fall apart; the centre cannot hold;

Mere anarchy is loosed upon the world,

The blood-dimmed tide is loosed, and everywhere

The ceremony of innocence is drowned;

The best lack all conviction, while the worst

Are full of passionate intensity."
So, where do we go from here?
First we take a step back.  We drop our guard.  We return to the first principals of learning.
Next, repeat after me:
First: "I do not know.  I do not understand.  Woe is me, for I am a person of unclean lips in the midst of a people of unclean lips."
Second: "Jesus loves me.  This I do know."
Now, holding those two thoughts we can move forward.
How might I be wrong?  How might I contribute to the suffering of others, through action or inaction?  How might I prevent the healing and wholeness of others, through action or inaction?
What can I stand to lose? What is truly necessary?  What has value?  What deserves my attention and loyalty?
Now the really hard part.
Really hard part.
You will not do it.
I should not even type it.
Heavy Sigh.
Answer those questions and do something about it.
Why wont you?  Because you must come to the realization that your country, your culture, your flag, your language, your traditions- all  are meaningless compared to your call to serve Christ.  Your family, your friends, your race, your gender, your home, your possessions- all are meaningless compared to your call to serve Christ. Even your love for your own self – meaningless compared to your call to serve Christ.
Can you give all that up?  Can you count them as meaningless?
What then has meaning?
Love the Lord Your God with all that is in you and to love others as Christ first loved you.
Nothing else.
NOTHING.
If you can do that.  If WE can do that.  Then maybe, just maybe, we have somewhere to go from here.
If not, enjoy the hand basket while it lasts.